The University of Chicago's home for the creation, performance, and study of contemporary classical music
The Chicago Center for Contemporary Composition at the University of Chicago is a dynamic, collaborative, and interdisciplinary environment for the creation, performance and study of new music and for the advancement of the careers of emerging and established composers, performers, and scholars.
Distinguished by its formation within an uncompromising, relentlessly searching, and ceaselessly innovative scholarly environment that celebrates excellence and presents new possibilities for intellectual dialogue, the Chicago Center for Contemporary Composition is comprised of ten integrated entities: an annual concert series with the resident Grossman Ensemble, CHIME, visiting ensembles, distinguished guest composers, performances, recordings, research, graduate student-led projects, workshops, and postdoctoral research positions.  
---

---
The Chicago Center for Contemporary Composition has made the difficult, but necessary decision to postpone our spring performances in cooperation with community-wide efforts to mitigate the spread of COVID-19.
Concerts include:
Saturday, April 11, 2020 – New Chamber Concerti (rescheduled for Autumn 2020)
Friday, May 1, 2020 – Plena Libre World Premieres (rescheduled for January 2021)
Friday, June 5, 2020 -- Grossman Ensemble
Sign-up for our email list to learn about future performances and events.
---
The University of Chicago's Center for Contemporary Composition (CCCC) is pleased to announce Dongryul Lee as the 2020-21 Postdoctoral Researcher at the rank of Instructor in the Division of the Humanities. Lee will develop new works to be premiered by the Grossman Ensemble and other guest artists during the upcoming season. He will also teach an undergraduate course, provide music lessons, and participate in the Center's workshops and events. "Dr. Dongryul Lee's works are alluring, sparkling, thoughtful, and carefully crafted. Each work has a unique concept, which he researches deeply and personalizes. Our committee found him to be an exceptionally inspiring talent and we are thrilled to welcome him into our collaborative and positive creative community," said University Professor Augusta Read Thomas, Director of the CCCC.
LEARN MORE ABOUT THE CCCC

Concerts                                                               Ensembles, Performances & Recordings 
Tickets & Subscriptions                                      CHIME Studio
Grossman Ensemble                                          Graduate Student-Led Projects
People                                                                  Research
Postdoctoral Research Program                       Support 
 
Location
---
Founder and Director
Augusta Read Thomas
Advisory Board
Seth Brodsky
Anthony Cheung
Jennifer Iverson
Amy Iwano
Travis Jackson
Sam Pluta
Barbara Schubert
Operations Coordinator
Maria Savannah
Director of Communications
Margo Strebig
Graphic Designer
Claire Snarski
Marketing Coordinator
Daniel Meyers
Operations Assistant
Will Myers
2018-19 Annual Report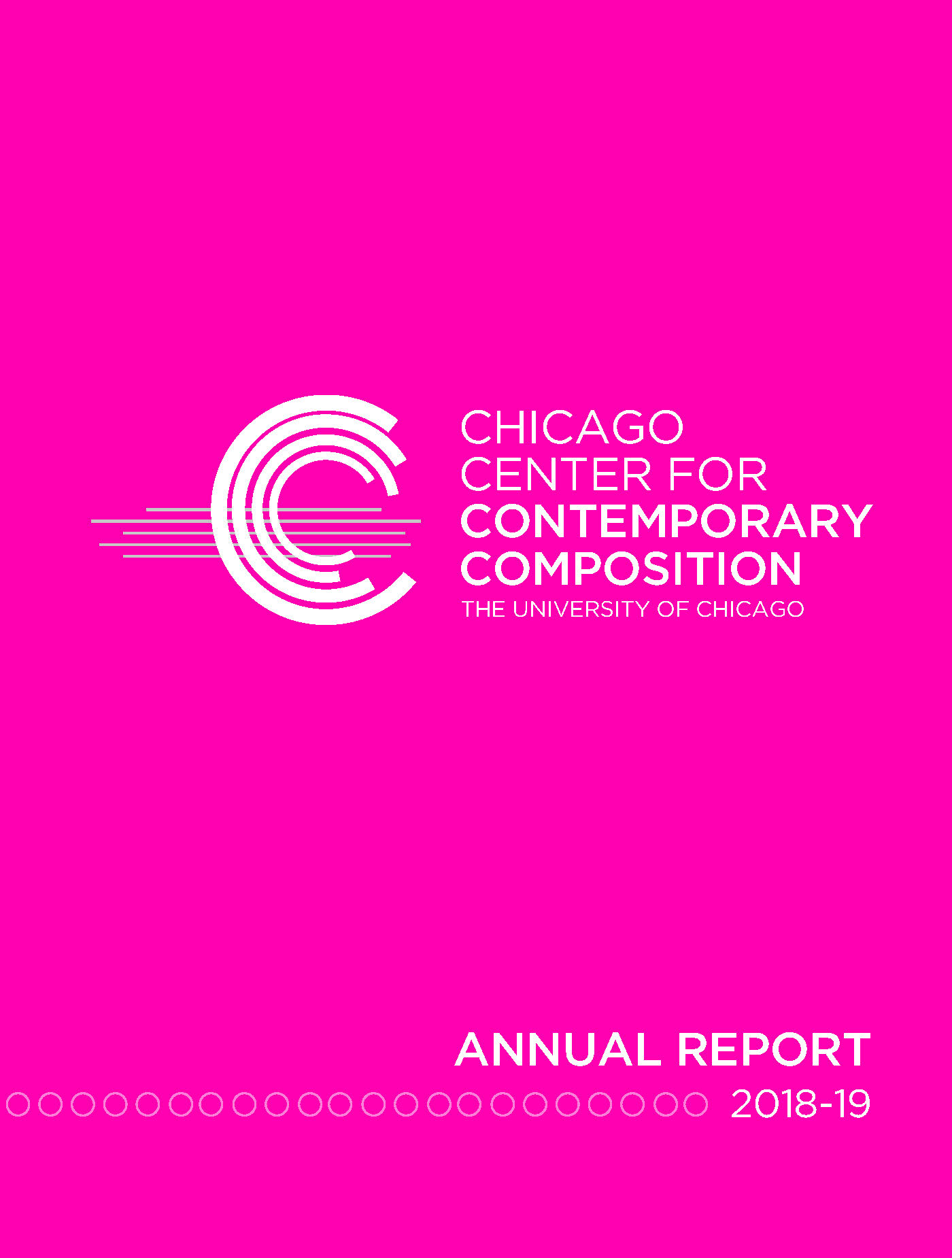 The Chicago Center for Contemporary Composition is supported in part by generous gifts from Kay Bucksbaum, Gay Stanek, and the Sanford J. Grossman Charitable Trust. 
Click here to sign up for the CCCC Email list.
Related Links