Composition students are encouraged to propose and develop special projects sponsored by the Chicago Center for Contemporary Composition. In addition to enriching their own area of study, students gain indispensable organizational, management, and budgeting skills through the execution of their projects.
---

Featuring [Switch~ Ensemble]
Project Leader: Igor Santos, Ph.D. student, Music Composition
Project Advisors: Augusta Read Thomas and Sam Pluta
Switch On! is an academic year-long collaboration between composition students from the University of Chicago, the CHIME Studio, and [Switch~ Ensemble], a distinguished performing ensemble consisting of both instrumentalists and sound technicians, which specializes in electroacoustic music. The collaboration pair composition students with sound technicians from [Switch~] to create and realize new compositions that incorporate electronics and multimedia. The project aims to generate an environment where composers can comfortably experiment with technology and receive the close technical assistance required to realize their creative visions. The culmination of the project will take place from May 9–15, 2017, when [Switch~] will be in residency at the University for a week of workshops, rehearsals, performances, and recordings of student works. Read more »
---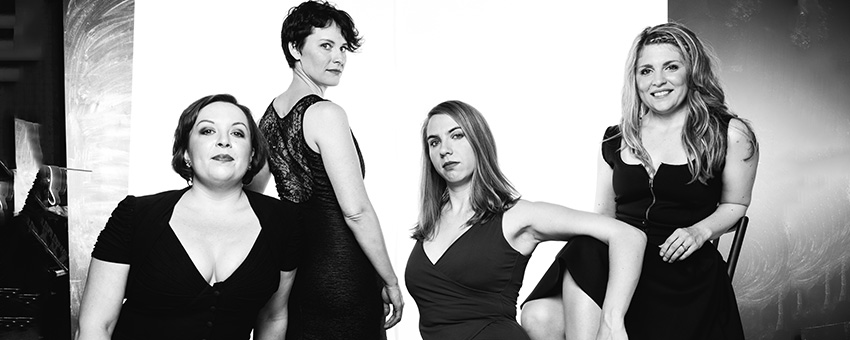 Embodied Fictions: New Words and Music from the University of Chicago (2015–16)
Featuring Quince Ensemble
Project Leaders: Pierce Gradone and Kate Pukinskis, Ph.D. students, Music Composition
Project Advisor: Augusta Read Thomas
Embodied Fictions is an interdisciplinary collaboration between graduate students in the Departments of English and Music and Quince Ensemble, a Chicago-based female vocal quartet specializing in contemporary music. Throughout the 2015-2016 academic year, poets from the English Department created new texts in collaboration with composers from the Music Department that were subsequently set to music performed by Quince. 
Poets and composers had the unique opportunity to work closely with the musicians of Quince throughout the creative process, experimenting with textual and musical ideas throughout the Autumn and Winter quarters. These new works were premiered in the Spring quarter. The concert featured five new pieces from five different composers with texts from three poets. The participating composers were Pierce Gradone, Jack Hughes, Joung-Bum Lee, Katherine Pukinskis, and Igor Santos.
---
Project Leaders: Iddo Aharony (Ph.D., 2016) and Amy Briggs (Department of Music Artist-in-Residence, 2009–2016)
Project Advisor: Augusta Read Thomas
During the 2014–15 academic years, ten composers from the Department of Music set out to answer the question: What music could emerge if composers and performers were given the opportunity to interact, experiment, and collaborate for an extended period of time? The result was Project Incubator.
Project Incubator brought together the Department's composers with some of the finest professional new music performers in Chicago. Each composer selected a performer with whom to form a creative one-on-one team, with instruments ranging from oboe, viola, and piano to bass-flute, voice, and accordion. Each team had multiple meetings and rehearsals over a 6-month period. One of the project's objectives was to have each team begin with a tabula rasa. Concepts and ideas then emerged during the teams' conversations, interactions, and experiments.
In May 2015, the resulting compositions were premiered at Constellation, an experimental music venue on Chicago's north side. The concert was preceded by an open-to-the-public symposium led by Seth Brodsky and Anthony Cheung, focusing on the project's unique creative processes. Filmmaker Frances Cedro documented each of the teams during their meetings and rehearsals. The resulting short films offer a unique glimpse into each collaborative creative process as it unfolds. Films and recordings of the pieces are available online. Read more »
Related News
Related Links