The University of Chicago's home for the creation, performance, and study of contemporary classical music
The Chicago Center for Contemporary Composition at the University of Chicago is a dynamic, collaborative, and interdisciplinary environment for the creation, performance and study of new music and for the advancement of the careers of emerging and established composers, performers, and scholars.
Distinguished by its formation within an uncompromising, relentlessly searching, and ceaselessly innovative scholarly environment that celebrates excellence and presents new possibilities for intellectual dialogue, the Chicago Center for Contemporary Composition is comprised of ten integrated entities: an annual concert series with the resident Grossman Ensemble, CHIME, visiting ensembles, distinguished guest composers, performances, recordings, research, graduate student-led projects, workshops, and postdoctoral research positions.  
---
Subscriptions are on sale for the four concert contemporary series. Join us for three performances of world premieres by the Grossman Ensemble, and a concert with guest ensemble Third Coast Percussion, at a special price that comes with subscriber benefits. Subscribe now! 
The full season will be announced August 19, with single tickets on sale. Join our email list or follow up on Facebook and Instagram to be the first to hear the news!
---
There are many creative, passionate people whose teamwork and artistry infuse the Chicago Center for Contemporary Composition with collaborative, nimble-minded, and open-spirited vitality. Read more »
---
The CCCC is pleased to announce the appointment of Ashkan Behzadi as the 2019-20 Postdoctoral Researcher at the rank of Instructor in the Division of the Humanities. Behzadi will develop new works to be performed by the CCCC's resident Grossman Ensemble, as well as other guest artists during the upcoming season. He will also teach an undergraduate course, provide music lessons, and participate in the Center's workshops and events. Learn more about Ashkan
---
The CHIME Studio (Chicago Integrated Media Experimental Studio) is a vital creative space in the University of Chicago's Department of Music. Directed by composer, improviser, and sound artist Sam Pluta, the studio is focused on creativity in the many realms of electronic music and its integration with other media. Read more »
Sam Pluta, Director
---
CCCC invites internationally acclaimed ensembles to engage directly with students and give public performances of new works. Read more »
---
CCCC invites an annual distinguished composer in residence to enhance current pedagogical offerings through the teaching of composition lessons and courses, participation in workshops and colloquia, programming of public performances, participation in campus-wide initiatives, and partnerships with institutions city-wide. Read more »
---
CCCC champions the performance of contemporary music through a dynamic mix of programming by graduate student-, faculty-, and visiting guest composers. Each season, CCCC brings contemporary music to the forefront of musical life on campus and throughout the city. Read more »
---
Through a fund specifically dedicated to recording, CCCC makes possible the dissemination of works by a variety of CCCC's composers and ensembles, from senior luminaries in the field of new music to emerging student composers. The facilitation of high-quality recordings, performed by exceptional musicians, ensures that music created at CCCC becomes part of the international canon of new music. Read more »
---
Numerous faculty in the University of Chicago Department of Music, working in Ethnomusicology and Music History and Theory, research 20th- and 21st century music. Their work engages performers, composers, scholars, and audiences in stimulating dialogue concerning a diversity of recent music. Read more »
---
Composition students are encouraged to propose and develop special projects sponsored by CCCC. In addition to enriching their own area of study, students gain indispensible organizational, management, and budgeting skills through the execution of their projects. Read more »
---
WORKSHOPS
A series of dynamic workshops led by leading composers, scholars, and performers from the new music field complements and enhances the work of CCCC in a lively, interactive setting.
Location
---
Founder and Director
Augusta Read Thomas
Advisory Board
Seth Brodsky
Anthony Cheung
Jennifer Iverson
Amy Iwano
Travis Jackson
Sam Pluta
Barbara Schubert
Manager
Reba Cafarelli
Director of Communications
Margo Strebig
Graphic Designer
Claire Snarski
Marketing Coordinator
Daniel Meyers
Subscribe to the 2019-20 Contemporary Series
2018-19 Annual Report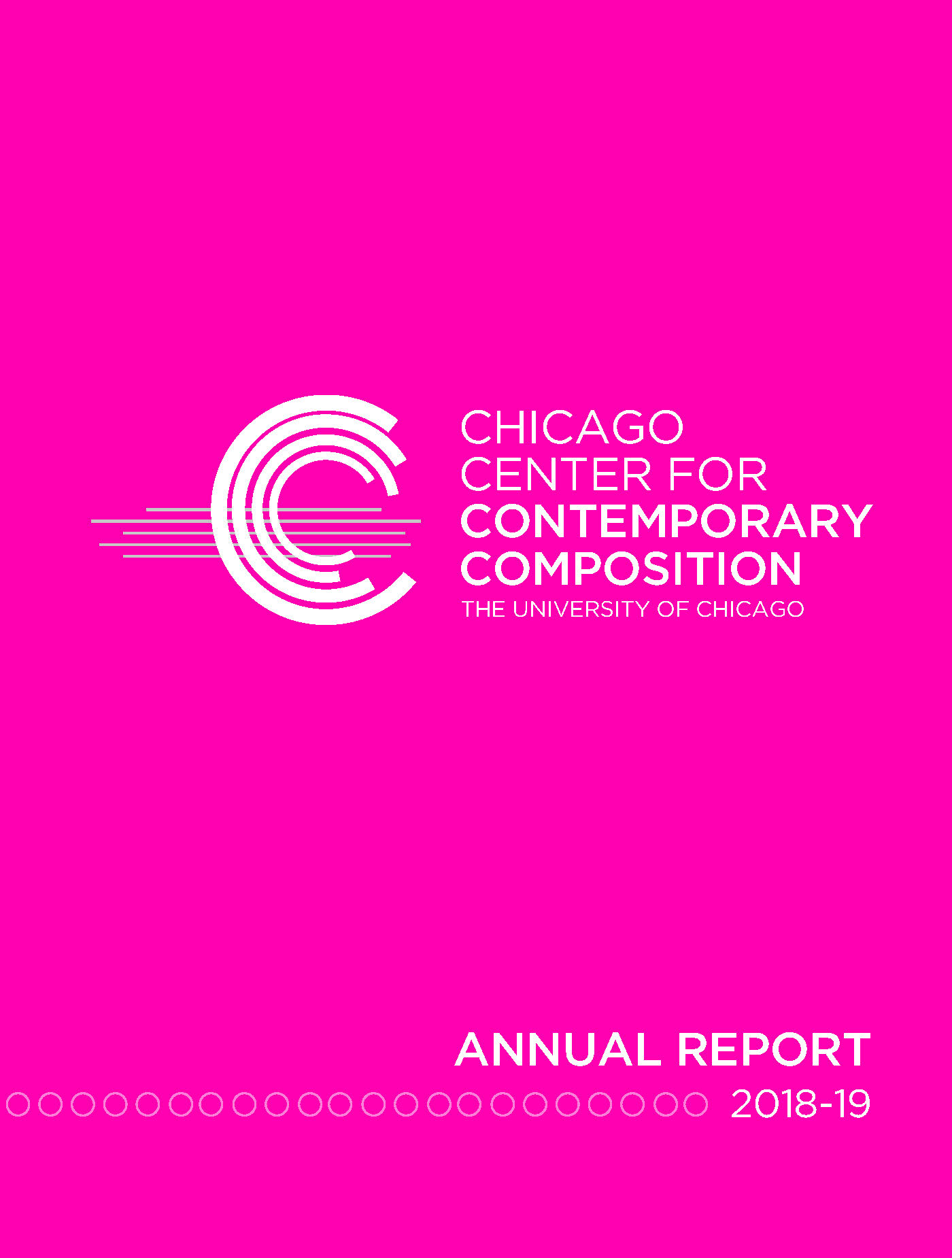 The Chicago Center for Contemporary Composition is supported in part by generous gifts from Kay Bucksbaum, Gay Stanek, and the Sanford J. Grossman Charitable Trust. 
Click here to sign up for the CCCC Email list.
Related Links