Commencing in Fall Quarter 2015, the Arts, Science & Culture Initiative began piloting a new inter-institutional program titled Field Trip / Field Notes / Field Guide in partnership with the School of Art & Art History at the University of Illinois at Chicago (UIC) and the Graduate Division and the Earl & Brenda Shapiro Center for Research and Collaboration at the School of the Art Institute of Chicago (SAIC). Over the course of a year, the nine Fellows – recent MFA graduates or current PhD candidates at the participating institutions in the fields of art, art history, architecture, journalism, science, and social science  – are prompted to engage Chicago's vibrant urban environment. Exploring and digesting the city as a collective body while retaining the unique perspectives and methodologies of their disciplinary studies, the Fellows are partaking in and self-initiating a series of expeditions, readings and discussions that will culminate in the production of a "field guide."
The program's first trips into "the field" were organized this past fall by Satya Basu ( MArch'15, AIADO, SAIC), Nicole Bitler Kuehnle (PhD candidate, Committee on Evolutionary Biology, UChicago) and Troy Douglas Pieper (MA'15, New Arts Journalism, SAIC). The first of the trips was a behind-the-scenes visit to the Field Museum in November, followed by a half-day tour of the Chicago Pedway and Marina City on a misty December morning. Through their trip planning conversations, the theme of "things-within-things" emerged as a collective interest. We had a chance to catch up with Satya, Nicole and Troy this Winter Quarter to ask them a few questions about their work and what surprises they found along the way.
Can you tell us a bit about your respective backgrounds?
Satya: I am a Chicago native who grew up in Lakeview and attended University of Chicago where I studied Philosophy and Law. After graduating I worked as a legal assistant and then as a financial broker in New York. While living in New York, I developed a practice as a residential interior designer which ignited my passion in design. I found that design provided an opportunity for me to do more for people and the world at large. Since moving back to Chicago to study architecture, I constantly look for new ways to explore and expand this desire and effect meaningful change to the environments around us. 
Nicole: I am a PhD student in Evolutionary Biology at the University of Chicago studying how species respond to new environments, either because they have moved in response to climate change or because they have been introduced by humans. I use marine snails as a study system because they preserve well in the fossil record, which allows me to look at movement and adaptation over longer timescales. My fieldwork brings me to the Pacific Northwest to study present-day snails, but it also brings me to natural history museums across the country to photograph collections of marine snails.
Troy: My background is in journalism, where I've worked as a writer and editor focusing on the arts, architecture, and design. 
Coming from your diverse backgrounds and disciplines, what interested you in participating in the Field Trip/ Field Notes/ Field Guide program?
Troy:  The opportunity to explore just what constitutes Chicago's urban environment and makes up its culture, from a design and urbanist perspective, collaboratively with a diverse group of practitioners in the arts and sciences is irresistible. 
Nicole: I have always been interested in the intersection of art and science. Because I spend a lot of my time in museum collections photographing shells, I appreciate both the beauty of the organisms themselves, as well as the beauty and artistry of museum exhibits. I was attracted to the program because I wanted to be a part of – and learn from – discussions with graduate students across disciplines who approach and document field work in different ways.
Satya: I find that collaboration between fields is a key to accelerating thought and understanding. When people from different backgrounds and fields of study interact, we expose the interstitial and unexplored connections between different areas of thought and discover new frameworks for the investigation and exploration of problems. Usually everyone walks away with some new ideas or viewpoints on their own work as well as potential future avenues of research and collaboration.
Can you briefly discuss the sites you chose to tour?
Nicole: At the outset of the program, Troy, Satya, and I tried to find Chicago places that served as common ground for our collective fieldwork and areas of study. For Troy, it was Marina City, a residence that sought to bring retail and services into a single building to provide affordable and compact urban living. For Satya, it was the Chicago Pedway, an underutilized system of underground tunnels with shops, restaurants, and entrances to office buildings. For me, it was the Field Museum, which houses collections from around the world. What we found tied all of these together were the themes of "things within things" and microcosms. Each building represents a "coming together" of otherwise stand-alone elements.
I facilitated the tour of the Field Museum, an institution that I have visited as part of my dissertation work. On this trip we heard from curators, researchers, and graduate students working on the collections at the museum—some of which came right from Chicago, and some of which came from places around the world. We explored the public (exhibits) part of the museum, the behind-the-scenes collections, and the interplay between the two
.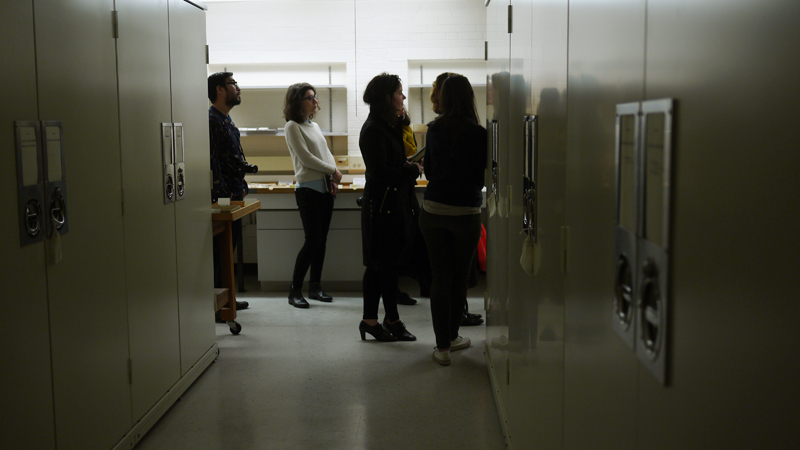 Satya:  I chose the Chicago Pedway as an area of investigation for two main reasons. The first is that it is a complex and multi-layered system within the heart of the city that incorporates many physical connections to the historic infrastructural levels of the city. It is a part of the public domain, yet it is largely invisible and very difficult to apprehend and penetrate. As such, it also provides an interesting study of public space. As the city explores new options for re-purposing the riverside and old railway tracks, I believe it is useful to understand the history and evaluate the successes and failures of the existing connective pedestrian ways.
Troy: I wanted to highlight a site of interest from Chicago's rich architectural history and examine how it exists in the city's contemporary landscape of architecture and design, particularly in the context of urban development characterized more and more by cheaply built condominiums and rapid gentrification. The iconic Marina City towers were, for a time, the tallest residential buildings and the tallest concrete structures in the world. Their corncob shape is recognizable as a symbol of Chicago and of Chicago's rich tradition of architectural innovation. Today, architects and designers, among many others are happy to call it home. The towers also recall racial tensions present in many urban landscapes in the 1950s and 60s. Marina City was an attempt to combat "white flight" by being a city within a city, where people could live, work, shop, and recreate without leaving the development's campus. 
What gravitated you collectively to the idea of exploring "things within things" in the city of Chicago?
Troy: I believe we saw, even across the wide variation of our interests in the city, the complexity at its core. It seemed with each conversation we had that there were more layers to Chicago – its history, its culture, its place in the world today – than we could ever have the time to peel back. In many ways, the city began to seem to me representative of how urban development has taken place across the country and how the U.S' history has played out for better and for worse. 
Satya: From the first we wanted to find a framework that connected our individual sites and interests even though they were quite different at face value. As we began to unpack our motivations and the different scales and spheres of interest of our sites, we began to see relationships between public and private as well as the different scales of interaction and how they related to the city. The Field Museum was a very public connection to the whole natural world encased within a single building; the Pedway was a public but removed area of interaction between city elements, private buildings and public spaces. Marina City was a private microcosm constructed within the its own walls as a city within a city, connecting with the waterways, the ground and the sky. We began to see a hierarchy of these different elements in these different spheres.
Was there anything that surprised you, or you unexpectedly discovered, while out "in the field"?
Nicole: Although we went into the Pedway field trip knowing that it was an underutilized space, I was still surprised by how quiet and abandoned it felt in certain areas. It was empty and uninviting in the zones that didn't connect to the train system. It is interesting to imagine how the Pedway could become a more inviting and navigable asset of the city.
Satya: And while touring the Pedway we discovered a number of playing cards from a Harrah's Casino deck scattered on the ground across from a curated display of historic stained-glass windows, all in a passage that smelled like an open sewer. There was a poetic sense of underground interactions and stories being enacted in the bowels of the city. 
Troy: I found that what were – at first – very intentional field trips began to shift into a less focused exploration, almost in the tradition of Situationists' dérive, at least for me. Dérive has been a hot topic on SAIC's campus (where I recently completed an MA), so perhaps it was just on my mind. But truly, making these trips without very strong direction or expectation made me open to the raw experience, and I felt that I was able to observe so much more of the world around me.
Satya Basu (MArch'15, AIADO, SAIC) is interested in responsive architecture and algorithmic design as part of small practice in collaboration with other fields and designers. He is a Digital Design faculty member in the Continuing Education Studies program at SAIC and an architectural designer at Gensler. Basu is a graduate of the University of Chicago, with a double-concentration Bachelor of Arts in Law, Letters & Society (LLSO) and Philosophy. Post-graduation, Satya worked as a Legal Assistant for DLA Piper before moving to New York City in 2007. Between 2007 and 2012, Basu worked for GFI Group as a financial broker while founding his own practice as a designer. His firm Satya Design works on residential interior designs with completed projects throughout New York City and the DC area. Basu completed his Masters of Architecture at SAIC (School of the Art Institute of Chicago) in 2015. Basu's more recent design work has been exhibited at the Art Institute of Chicago and the Chicago Architectural Foundation.
Nicole Bitler Kuehnle (PhD candidate, Department of Evolutionary Biology, UChicago) studies native and non-native geographic expansion in marine mollusks. Nicole's research uses fossil and modern data on marine clams and snails to compare evolutionary changes in species that have encountered new habitats, either by moving in response to climate change or through human introductions.
Troy Douglas Pieper's (MA'15, New Arts Journalism, SAIC) long history working in publications of all kinds and in all formats has brought his interests from economics to political and social activism, to art history and contemporary art, and finally to architecture and design. These latter forms for him encompass much of the former, and so naturally, he is currently putting together a publication about the Chicago design world. While at SAIC, Pieper was Managing Editor for F Newsmagazine, and has worked as a Copywriter, Content Manager and Managing Editor for numerous digital and print publications in Chicago and Minneapolis.  
Tagged with