February 6, 2012
Scholarly connections aid adaptation of former UChicago professor Ralph Ellison's landmark novel.
Main feature by Kerry Reid | Photos by Michael Brosilow
"I've been quite impressed by how well they've managed to distill such a vast novel into the necessarily more streamlined form of a stage play." 
—Prof. Kenneth Warren
One thousand, three hundred, sixty-nine light bulbs. That's what it takes to illuminate the world of the Invisible Man, the nameless but unforgettable protagonist of Ralph Ellison's landmark 1952 novel about one black man's struggle for identity amid racial turmoil. In a basement in Harlem festooned with bare bulbs, he extols "the darkness of lightness" he has found in solitude after bruising battles with Southerners and Northerners, blacks and whites, segregationists and revolutionaries.
With its mix of interior monologues, stretches of jazz-and-blues-inflected dialogue, and expressionistic settings, the book quickly became a touchstone, though it was never produced for the stage or screen. For years, first Ellison and then his estate refused to grant the adaptation rights for his masterpiece — and at nearly 600 pages, the task would seem daunting even without that roadblock.
Charles Newell, Court Theatre's artistic director, had tried to acquire the rights to Invisible Man in the mid-1990s. After discovering a stage version was in the works, he and Court's executive director, Stephen J. Albert, attended a March 2011 reading at the August Wilson Center for African American Culture in Pittsburgh. They knew Court could bring the script to life. "I've found when you have a good idea, you just follow your nose and your instincts, and it gains momentum," says Newell.
In January Invisible Man made its world premiere at Court, earning rave reviews as "a remarkable, 205-minute, must-see, three-act dramatic achievement." The production is scheduled to run through Feb. 19.
It's fitting that Ellison's work found its stage legs on the UChicago campus where he taught in 1961, and which is currently home to Prof. Kenneth Warren, a pre-eminent Ellison scholar in the United States.
Warren's reputation was helpful in making the case for Court to premiere Oren Jacoby's adaptation, directed by Christopher McElroen (co-founder of the Classical Theatre of Harlem play). Warren's 2003 book, So Black and Blue: Ralph Ellison and the Occasion of Criticism, provides a 21st-century lens on Ellison's continuing legacy.
"My initial reaction to the idea was a mixture of enthusiasm and caution," says Warren. "I've always thought it would be great to see Ellison's vision realized in another medium, but I'd always figured that film rather than the stage would be best suited for this type of adaptation."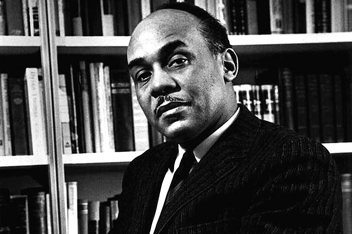 Challenges of adaptation
The journey from page to stage began about 2003, with the permission of Ellison's literary executor, John Callahan. (Ellison died in 1994 at age 80 and his widow, Fanny, died in 2005.) Jacoby, an Oscar-nominated documentary filmmaker as well as a playwright and stage director, first suggested that Suzan-Lori Parks (author of the Pulitzer-winning play Topdog/Underdog) might wish to tackle the text, but Parks told him he should do it.
"The mountain was there. I couldn't resist the challenge," says Jacoby. He and McElroen did a reading as part of the Tribeca Film Festival in 2004. "It went very well, but it was too long," says Jacoby. "It's gone from 120 pages to 105 pages." After sending it around to many theaters and not getting a bite, he'd just about decided that it had no future. But McElroen persisted, and they continued presenting readings as they honed the text.
As scholars have gained a deeper and more textured understanding of Ellison's work, the barriers to adapting the novel became less daunting, Warren says. And that may have played a role in changing the estate's mind about the adaptation rights.
"My conjecture is that now that scholars have had full access to the working drafts of Invisible Man…the status of the text has changed somewhat," says Warren. "We are being encouraged to see the novel we know as Invisible Man as one of several other possible versions that could have emerged from Ellison's creative process."
In their own creative process, Jacoby and McElroen resisted the temptation to interpolate their own writing—every word in the script is from Ellison's book. "It's very much a Bildungsroman or picaresque journey of becoming a man — the things that define his southern experiences, the things that define his Harlem experiences, and the things that define his participation and ultimate disappointment in a political movement," says Jacoby.
An 'adventurous approach'
Both Warren and literary executor Callahan, who was an editor and friend of Ellison, attended some rehearsals to offer insight into the text. Warren says, "I've been quite impressed by how well they've managed to distill such a vast novel into the necessarily more streamlined form of a stage play."
Production dramaturge Jocelyn Prince points out that, though Court has built a strong reputation for staging African American drama, Invisible Man takes an especially adventurous approach. "Court's big draw or triumph is doing these shows with a big expressionist aesthetic," she says. "And it's exciting to see it blended with this big African American novel."
Staging the 1952 work for 21st-century audiences brings some unknowns, of course. Warren says people who are new to Ellison's text will experience it differently than those who encountered it decades ago.
"I actually think that many of the novel's admirers today may be too ready to see it as a timeless literary work," says Warren, "and to overlook the extent to which its power derives from its subtle awareness of and engagement with a mid-20th century U.S. society that was wrestling with a familiar form of social inequality."