November 9, 2015
Arts and Public Life has selected seven Chicago-based artists to receive funding and other support through two of its signature efforts to build creative connections on the South Side of Chicago.
In partnership with the Center for the Study of Race, Politics, and Culture, Arts and Public Life has selected three artists for its residency program. In addition, Arts and Public Life has chosen the recipients of the Crossing Boundaries Prize, which allows Chicago-based artists to pursue collaborative projects.
The 2015-16 Arts and Public Life/CSRPC artists-in-residence are visual artists Greg Bray and Nazafarin Lotfi and musician Aquil Charlton. The Crossing Boundaries Prize recipients are artists Sarah Beth Woods and hair-braider Fatimata Traore; and footwork dancer Jamal "Litebulb" Oliver and filmmaker Wills Glasspiegel.
"Through these residency programs, we make space for Chicago-based artists to explore new directions in their practices as they engage the South Side community," said Theaster Gates, professor in the visual arts and the College and director of Arts and Public Life. "I'm excited to see what this year's class of diverse and multi-talented artists produce in the months to come."
The Arts and Public Life/CSPRC residency program is open to Chicago-based artists and groups whose work explores issues of race, politics and culture. It aims to advance the ambitions of and opportunities available to artists who are underrepresented in the Chicago and national arts scenes.
During the 10-month program, resident artists have access to rehearsal, performance and exhibition space at the Arts Incubator in Washington Park, as well as access to the academic and research resources of the entire University. Each artist receives a $10,000 stipend and additional funds for materials and programming support. The residency was established in 2011 as a partnership between Arts and Public Life and the Center for the Study of Race, Politics and Culture.
The Crossing Boundaries Prize supports artists for a five-month period with a $7,000 stipend. Each Crossing Boundaries resident selects a collaborator in a different field whose work can help them to expand their practice. The Crossing Boundaries program is supported by Arts and Public Life and CSRPC.
For their project, Woods and Traore  will use open studio sessions on hair-braiding to inform a publication and new sculptural works. Oliver and Glasspiegel will develop a multi-part archival initiative that creates spaces online and in person where anyone can engage with and learn the history of footwork culture.
About the Arts and Public Life/Center for the Study of Race, Politics and Culture artists-in-residence: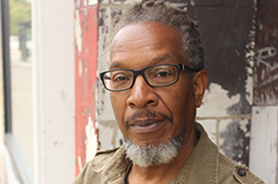 Greg Bray is an artist who works primarily in painting, collage and assemblage. His work moves along the arc of representational abstraction, producing in its wake spontaneous improvisations that interpret space and suggest random form as structure. Through these mediums and the continued evolution of his technique, Bray is able to relay the stories of his life experiences, including the daily happenings just outside of his doorstep in Grand Crossing where he has lived and had a studio since 1986. Finding inspiration in the futurist, cubist, afrofuturist and early muralist movements of the twentieth century, Bray uses texture, geometric shapes, vibrant color and found objects as a way to recall, transform and translate the stories of his life and surroundings. Bray received his BFA from the School of the Art Institute in 1978 and has received several awards including the Pollock-Krasner Foundation Grant.  
Aquil Charlton is a teaching artist and consultant who applies his youth development experience and artistic practice as a visual artist, musician, writer and DJ, toward his vision for a more just society. He is passionate about providing creative, imaginative spaces combined with educational tools that empower and validate children from systemically marginalized communities. Charlton started off as a teaching artist and muralist with Umoja Student Development Corporation, then went on to co-found The Crib Collective, launch the ALT-City arts ensemble of the Chicago Public Schools All City Arts program, teach at Urban Gateways, and serve as a cultural ambassador for the US State Department. He received his degree in non-profit administration from North Park University in 2011.
Nazafarin Lotfi is a visual artist and educator who lives in Chicago. She received her MFA from the School of the Art Institute of Chicago in 2011 and her BA from the University of Tehran in 2007. Lotfi works with quotidian and discarded objects and her work is rooted in the ambiguities and uncertainties of looking. Recent solo exhibitions include: Poiesis at Fernwey Gallery, Chicago; White Light at Andrew Rafacz Gallery, Chicago (two-person show); Love at Last Sight at Brand New Gallery, Milan; Circles at Tony Wight Gallery, Chicago. She teaches at Harold Washington College and College of Dupage. 
About the Crossing Boundaries Prize recipients:
Fatimata Traore is a Malian-American professional hair braider, teacher, and entrepreneur. Traore is president of the Illinois Association of Hair Braiders, a member of the African Political Action Committee and board member of Mali Relief. She has recently participated in Chicago based braiding events at the Gray Center for Arts and Inquiry, Hyde Park Art Center, and the South Side Community Art Center. Traore is a graduate of the National School of Administration Bamako, Mali.
Sarah Beth Woods is a Chicago-based artist who uses the languages of craft, sculpture, and public engagement to explore femininity through material culture, artifice and adornment. Woods received an MFA from the University of Illinois at Urbana-Champaign and a BFA from Northern Illinois University. Her work has been included in shows at the University of Michigan's Work:Detroit space, Girls Club, Fort Lauderdale, Florida, A.I.R gallery in Brooklyn, New York, the Bob & Roberta Smith Kunstverein at Coventry University, Coventry England, and in Chicago at the Museum of Contemporary Art, Western Exhibitions, The Franklin, Hyde Park Art Center, and Woman Made Gallery. Her work was recently published in the Chicago Tribune and Newcity magazine, where she was named one of the top 5 Subversively Conceptual Crafters in Chicago.
Wills Glasspiegel is a documentarian and visual artist from Chicago and New York. He directed the short film "Icy Lake" and co-founded the Shangaan Electro project in Soweto, South Africa. He is currently a PhD student in African American Studies at Yale, where his academic work includes exploring and documenting Chicago footwork dance and music. Glasspiegel has produced several long-form public radio documentaries, including an exploration of Nigeria's Nollywood industry, and a history of Black electronic music in the Midwest. His projects span different mediums, from community films made for dancers in Chicago, to radio segments made for NPR's "All Things Considered" and "Morning Edition." Wills' photography has been featured in FADER Magazine, and his images and designs have been featured by prominent Chicago DJs on their album covers. Since 2009, he has worked closely with musicians in Chicago including RP Boo and the late DJ Rashad. The digitization of culture and art has been a concern of Glasspiegel's work for the last decade, from Sierra Leone to South Africa, to the South Side of Chicago. His efforts have been supported by grants from the Harvard Hip Hop Institute, the National Endowment for the Humanities, and Yale's Department of African American Studies.
Jamal "Litebulb" Oliver is an artist and footwork dancer from the South Side of Chicago. He co-founded The Era Footwork Dance Company in 2014, and has performed at The Barbican in London, Hive in Tokyo, and MoMA PS-1 in New York, among other venues. Oliver began his dance career at a young age with performances and footwork battles in Chicago. Footwork is an indigenous black Chicago dance that originated in the 1980s and has more recently spread in popularity outside the U.S. Oliver is a leading practitioner and ambassador of the dance form, touring and performing with the Teklife DJ collective and the late DJ Rashad. This year, he received a grant from the Chicago Dancemakers Forum to begin production of 160, a multimedia dance performance depicting Chicago from the perspective of a footwork dancer. Oliver's goals include changing the perception of dance, moving dance from the background to the foreground of popular culture, and helping to bring an end to segregation in the dance world and beyond. As an educator, he is dedicated to teaching footwork to anyone who wants to learn.